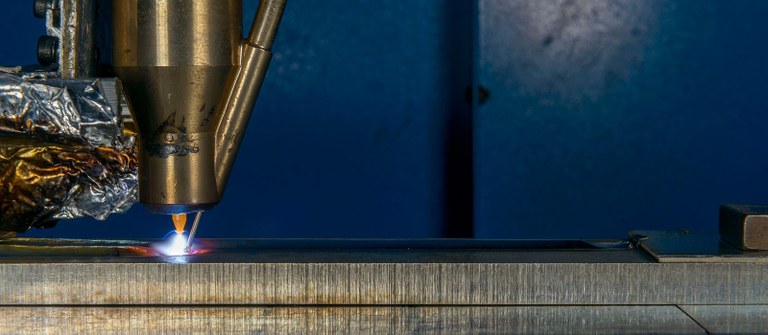 Wire + Arc Additive Manufacturing
Established industrial processes and reliable feedstock materials
ADDITIVE MANUFACTURING (AM)
AM is a technology that promises to reduce part cost by reducing material wastage and time to market. Furthermore, AM can also enable an increase in design freedom, which potentially results in weight saving as well as facilitating the man- ufacture of complex assemblies formerly made of many subcomponents.
A basic AM system consists of a combination of a motion system, heat source and feedstock. Owing to its intrinsic characteristics, each process is naturally suitable for certain applications. For instance, selective laser melting delivers net shape components with high resolution; however, similarly to electron beam melting, deposition rates are relatively low, and part size is limited by the enclosed working envelope. Consequently, this class of processes is best suited to small components with high complexity. The main business drivers for their adoption are freedom of design, customisation and possibly reduced time to market. The benefit associated with the reduction in material waste is limited; the mass of the components is already low to begin with. While the possibility of topologically optimising certain components is important, there is a growing requirement for larger reductions in material waste. In the aerospace industry, there is a pressing need for the development of a process that could replace the current method of manufacturing large structures such as cruciforms, stiffened panels, wing ribs, etc., which are machined from billets or large forgings, with high buy-to-fly (BTF) ratios. This metric is the ratio of the mass of the initial workpiece to the one of the finished product; in the aerospace sector, values of 10 or even 20 are not unusual.
WIRE + ARC ADDITIVE MANUFACTURING (WAAM)
The combination of an electric arc as heat source and wire as feedstock is referred to as WAAM and has been investigated for AM purposes since the 1990s, although the first patent was filed in 1925. WAAM hardware currently uses standard, off the shelf welding equipment: welding power source, torches and wire feeding systems. Motion can be provided either by robotic systems or computer numerical controlled gantries. Whenever possible, MIG is the process of choice: the wire is the consumable electrode, and its coaxiality with the welding torch results in easier tool path. MIG is perfect for materials such as aluminium and steel, but unfortunately, with titanium, this process is affected by arc wandering. Consequently, tungsten inert gas, or plasma arc welding, is currently used for titanium deposition.