A fruitful discussion on the applications of WAAM
Cranfield University hosted a visit from our English and American colleagues coming from Los Alamos National Laboratory, Lawrence Livermore National Laboratory, Sandia National Laboratory, Savannah River National Laboratory, Sandia River Site, Nuclear Safety Committee and Atomic Weapon Establishment to discuss the use and benefits of Wire+Arc Additive Manufacturing.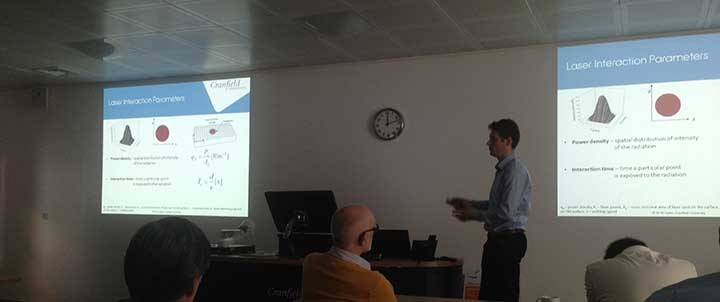 Presentations were given by Prof. Stewart Williams, Dr Wojciech Suder, Dr Filomeno Martina, Dr Jialuo Ding, Dr Supriyo Ganguly, Dr Goncalo Pardal and Gianrocco Marinelli on
WAAM technology and business review
WAAM part development
WAAM of refractory metals 
Material properties of WAAM parts
Novel approach to laser welding
Laser welding with pulsed fibre lasers
Welding of dissimilar metals
Laser hybrid welding – benefits and challenges
A tour of Cranfield's laboratory followed. The deposition of tungsten was demonstrated, as well as the operation of the HiVE machine with its unique multi-dimensional rolling.